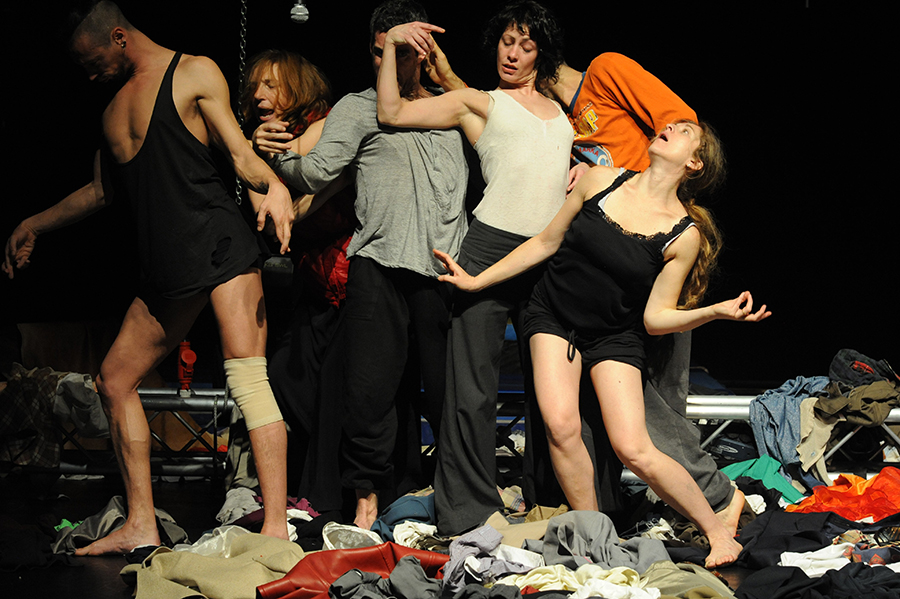 BIOGRAPHY
Alain Platel comes from Ghent, Belgium. He trained as a teacher for the mentally and physically handicapped, and is a self-taught director. In 1984 he created with friends and family a troupe that functioned as a collective, les ballets C de la B. Starting with Emma (1988), he made his mark as a director. He created Bonjour Madame (1993), La Tristeza Complice (1995) and Iets op Bach (1998), productions that brought Ballets C de la B international renown. With the writer Arne Sierens he provoked a similar effect with the theatre for young audiences company Victoria de Gand and the works Moeder en kind (Mother and Child, 1995), Bernadetje (Little Bernadette, 1996) and Allemaal Indiaan (Everybody's an Indian, 1999).
After Allemaal Indiaan, Alain Platel announced that he would no longer produce new works but Gérard Mortier convinced him to create Wolf (2003), a play about Mozart, for the Ruhr Triennale arts festival. The choral project Coup de chœurs that he directed for the opening of the new KVS theatre in Brussels marked the beginning of a close collaboration with the composer Fabrizio Cassol, and vsprs (2006) announced a change of direction. The exuberance of the previous shows, expressed by a diversity of performers and themes, gave way to greater introspection and greater tension, revealing a universe of urges and aspirations as well as violence, as was the case in Nine Finger (2007) with Benjamin Verdonck and Fumiyo Ikeda.
After the baroque style of pitié! (2008), Out of Context – for Pina (January 2010) was an almost ascetic reflection on the movement repertoire of spasms and tics. Through this language of movement Alain Platel continued his research, the challenge being how to express feelings that are too strong for words, with a yearning for something that surpasses the individual now increasingly apparent.
Together with Frank Van Laecke he created Gardenia in June 2010. Using the closing of a cabaret for drag queens as a starting point, the piece plunged into the private lives of a memorable group of ageing artists. In 2015 Alain Platel and Frank Van Laecke collaborated once again with En avant, marche!, a show inspired by the tradition of brass bands and harmonies, with musical direction by the composer Steven Prengels.
Gérard Mortier asked Alain Platel to create C(H)ŒURS (2012), his biggest project to date, with the famous choral scenes from Verdi operas. To that he added bits from the works of Richard Wagner. In C(H)ŒURS, Platel and the dancers and chorus of Teatro de Madrid explore the extent to which the beauty of a group can be dangerous. The political connotation of works like tauberbach (2014) and Coup fatal (2014, in collaboration with Fabrizio Cassol) resides in the energy and joie de vivre that emanates from the stage and that is apparent in how individuals survive life in difficult circumstances such as a garbage dump (tauberbach), or the everyday reality of musicians in the Congo (Coup fatal), with a lust for life as a way of rebelling.
Platel is not necessarily seeking to expand, as his involvement in small projects such as Nachtschade (for Victoria de Gand in 2006) and coaching for Pieter and Jakob Ampe on their piece Jake & Pete's Big Reconciliation Attempt for Disputes from the Past (2011) indicate. Those two projects provided much food for thought on just what theatre is or can be.